Ken Brisbane: "My disease isn't who I am."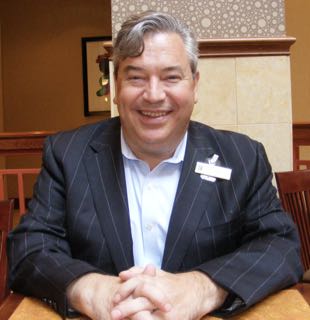 Ken Brisbane got used to dealing with health problems early on in his life, but this was a whole new level of sick.
Diagnosed with Juvenile Rheumatoid Arthritis (JRA) at age 19, Ken had multiple surgeries on his hands, knee and neck, and tried many medications to manage his disease.
But serious colon problems? Not really. Until just a few years ago.
"I was on a new medication, the best medication I ever tried for my arthritis," Ken, who has had a long career in the hospitality industry in Nashville, said. But a major side effect was gastrointestinal problems. He was initially diagnosed with Crohn's disease. After being on medical therapy for Crohn's for several years, he developed diverticulitis.
Used to living with major pain and discomfort, Ken dismissed his worsening symptoms for months, until he landed in the hospital for three weeks in 2011.
"My back was hurting, I lost a lot of weight and I was making many trips to the bathroom, but I just kept on going because my RA was better," he said. Finally, his physician took him off the medication, and his gastrointestinal symptoms started to improve.
"I was better, so we tried the medication again," Ken, Assistant General Manager with Embassy Suites Franklin Cool Springs said. But soon, the symptoms were back and a CT scan revealed that he had developed diverticulitis.
On a business trip to California in 2012,Ken started feeling rapidly worse. "One night I couldn't sleep at all. I was up all night in pain. Early the following morning I called my primary care physician who put me directly into the hospital when my plane landed back in Nashville."
Enter Dr. William Harb. "The first time I saw Dr. Harb was about 7 a.m. the morning after I got to Saint Thomas Midtown. I had been up all night the night before and came straight to the hospital after my plane landed. I was exhausted and in pain, but he got my attention because he already knew all about me, about my wife, who is a nurse, and what he wanted to do. Dr. Harb knew my case and me. He put me completely at ease from our very first meeting."
One week later, Ken had a temporary ostomy; approximately one foot of his large intestine was removed.
"One of the things that was difficult about my situation was whether the cause of my problem was Crohn's disease or diverticulitis. Fortunately, Dr. Harb's specialty gives him the ability to differentiate between the two." Surgery for Crohn's disease of the colon and diverticulitis is often drastically different.
"Dr. Harb didn't know if the ostomy would be temporary or permanent until he saw my colon, so that was pretty nerve-wracking," Ken said. "Thankfully, the ostomy was temporary, but regardless, I had the ongoing and full support from the entire team at The Colorectal Center. Each person there is really great, from their good medical care, to the fact that they get to know you as a person to how you're treated in their office. They are genuine in their whole attitude toward each one of their patients."
"Living with a chronic disease is just one part of my life," Ken said. "But it's not who I am." Ken has a full life as a professional manager; he walks between 10,000 and 20,000 steps in his job every single day. Ken is married to Megan, a nurse manager, and the couple has two children: son Matthew, age 22 and daughter Annie, age 19. He chaired the region's Arthritis Walk in 2007.