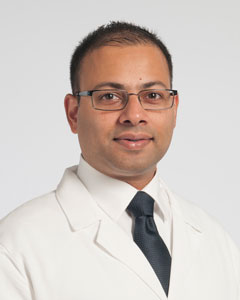 Dr. Christopher Mascarenhas is a board-certified colorectal surgeon, specializing in the treatment of diseases of the colon and rectum. Dr. Mascarenhas' specialty includes the diagnosis, treatment and management of colon and rectal cancer, inflammatory bowel disease (Crohn's disease and Ulcerative colitis) and benign colorectal conditions such as hemorrhoids and fissures.
Upon completion of his fellowship at Michigan State University, Dr. Mascarenhas completed advanced training at the Cleveland Clinic in Ohio in complex re-operative surgery for advanced cancers as well as inflammatory bowel disease (IBD). Dr. Mascarenhas joins The Colorectal Center from his position as Assistant Professor of Surgery at New York-Presbyterian and Columbia University, the leading hospital in New York City. As a leader in his field, he has achieved numerous publications, authored several book chapters and was elected to serve on the New Technologies Committee of the American Society of Colon and Rectal surgeons.
Dr. Mascarenhas' clinical interests include minimally invasive surgery, robotic colorectal surgery, transanal minimally invasive and transanal total mesorectal excision surgery techniques. He has extensive knowledge and experience in treating colorectal cancer and benign colorectal conditions with minimally invasive surgical techniques.
Dr. Mascarenhas is a member of the American College of Surgeons and the American Society of Colon and Rectal Surgeons.  He and his partners at The Colorectal Center are medical staff members at Saint Thomas Midtown, Saint Thomas West and Centennial Hospital.   They treat patients at their Midtown office and regional clinic locations.
When not working, he enjoys spending time with wife and two young children, listening to music, hiking, playing tennis and Skeet shooting.